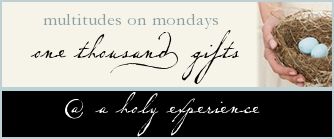 The sky was majestic as we drove the 40 miles home from church yesterday.
God was exclaiming through the brilliant forms of the clouds billowing over our piece of the world,
"Worship Me!"
"Worship My Majesty!"
I reach for my point & shoot camera and worship.
Photographing is worship.
And as I worship...
He is Exalted.
And the things of this earth...
my life...
grow strangely dim...
As I worship.
It's no longer about me.
It's about Him.
And my deflated lungs are filled.
He is the air I breathe.