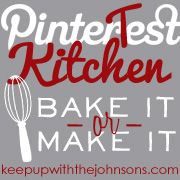 Joining blog friend, Jessica, with some Pinterest "bake it" and "make its," recently attempted in the Jones casa.
First up- these cinnamon & sugar baked donuts.
These
were made by our two resident bakers, Emilie and Josie, and were dainty, darling, and delish!
I'm glad my girls love to bake... my scale on the other hand is NOT SO GLAD the girls are bakers.
Next up- two accent pillows. An owl, and birds on a wire pillows
The girls were glad to have Nana help them whip these cuties up.
Nana is more patient than mommy in the area of sewing. She also just happens to have embroidery thread in her car (must be a Nana requirement- carrying embroidery thread). And when the thread isn't the color needed for the project she quickly suggests using a marker to change it to the desired color. genius.
Last up is something this non-lover-of-baking-or-sewing actually enjoys doing- painting!
When I saw this painted entry door I knew my own needed to go from this
to this!
Huge difference, right?!!
There is still A LOT that I'd like to do in this space (and in our home of one year).
In the meantime painting the door bright red was a quick improvement (and a free one, because I already had the paint on hand from this project).
(Check out this post to get a better look at the creative Nana-made-chandelier).
And because I'm linking up with Jessica, I'll give you a closer look at what's displayed on my made-by-Michael (with free) reclaimed wood shelf there on the right.
Jessica's Hope for Sudan print (chevron print on matte painted by me- the paint addict).
So that's a snippet of what we've attempted this last month from our pin boards.
(my girls have their own designated boards on my Pinterest. Follow me here.)
What have you pinned and tackled recently?